Healthy Spaghetti Carbonara : Vegan
---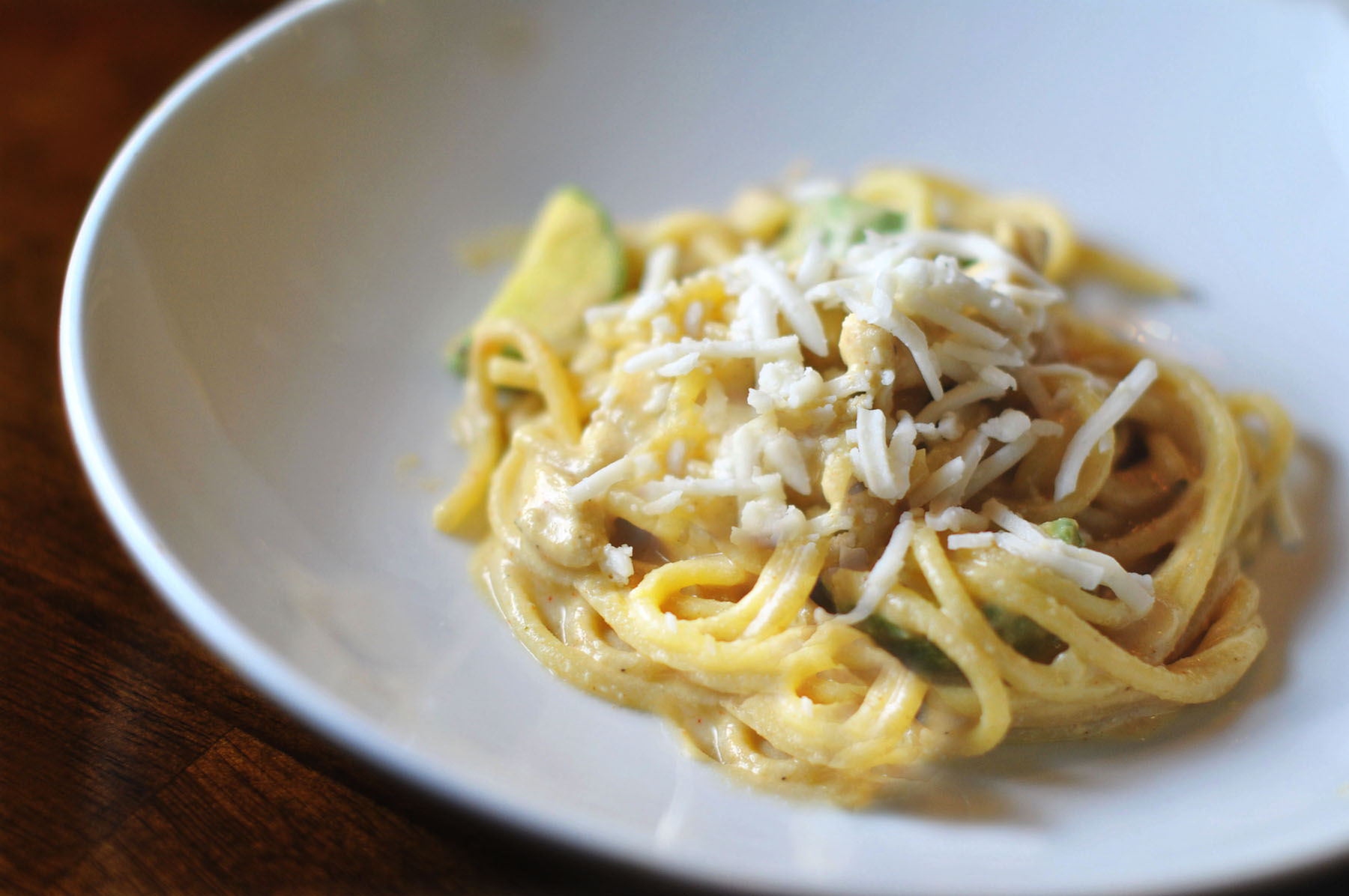 I have been preparing for Santa Barbara Summer Solstice Parade (It's a unique Santa Barbara celebration, similar to a few others such as Mardi- Gras in New Orleans ) in my dance + drum group, Panzumo for  last 8 weeks. Had an amazing and successful show this past weekend. During that 8 weeks, I have been trying to eat healthier, worked out regularly and of course danced a lot. (I did splurge on flank steak, fish and chips and shepherd pie….and oh I cannot give up on dessert…80% healthy food 20% splurge! Right?

) And this was one of my favorites when I felt like eating comfort food but didn't want food to weigh me down. I made this for my husband and his friend when they were watching hockey and drinking beer. They said it was the best pasta they ever had. I even admitted that it was vegan…If big, beer drinking hockey players said, it's satisfying, it probably is good and satisfying…without feeling heavy in my tummy. Now make this, go dancing!
Ingredients
Carbonara sauce:
1/2 cup raw cashew( soaked in water a few hours )
1/2 cup raw almond ( soaked in water a few hours )
1 cup vegetable broth (or chicken broth)
2 teaspoon dijon mustard
2 teaspoon smoked paprika
1 teaspoon brown sugar
2 teaspoon dried oregano or italian herb
1 Tablespoon tahini
2 teaspoon white mild miso
3 Tablespoon Bragg's liquid aminos
1 clove garlic
1 lemon
1 Tablespoon garbanzo flour (This will thicken the sauce!)
Pasta:
1/2 box Thick spaghetti
Favorite veggies sliced (Striped zucchini, peas, spinach….)
Vegan mozzarella cheese to sprinkle on top
Preparation
 1.  Soak cashews and almonds in cold water for 30 mins~hour. Peel off soaked almonds. (When soaked in water, it's really easy to peel off the skins. Just squeeze the bottom with your finger, almonds will pop right out)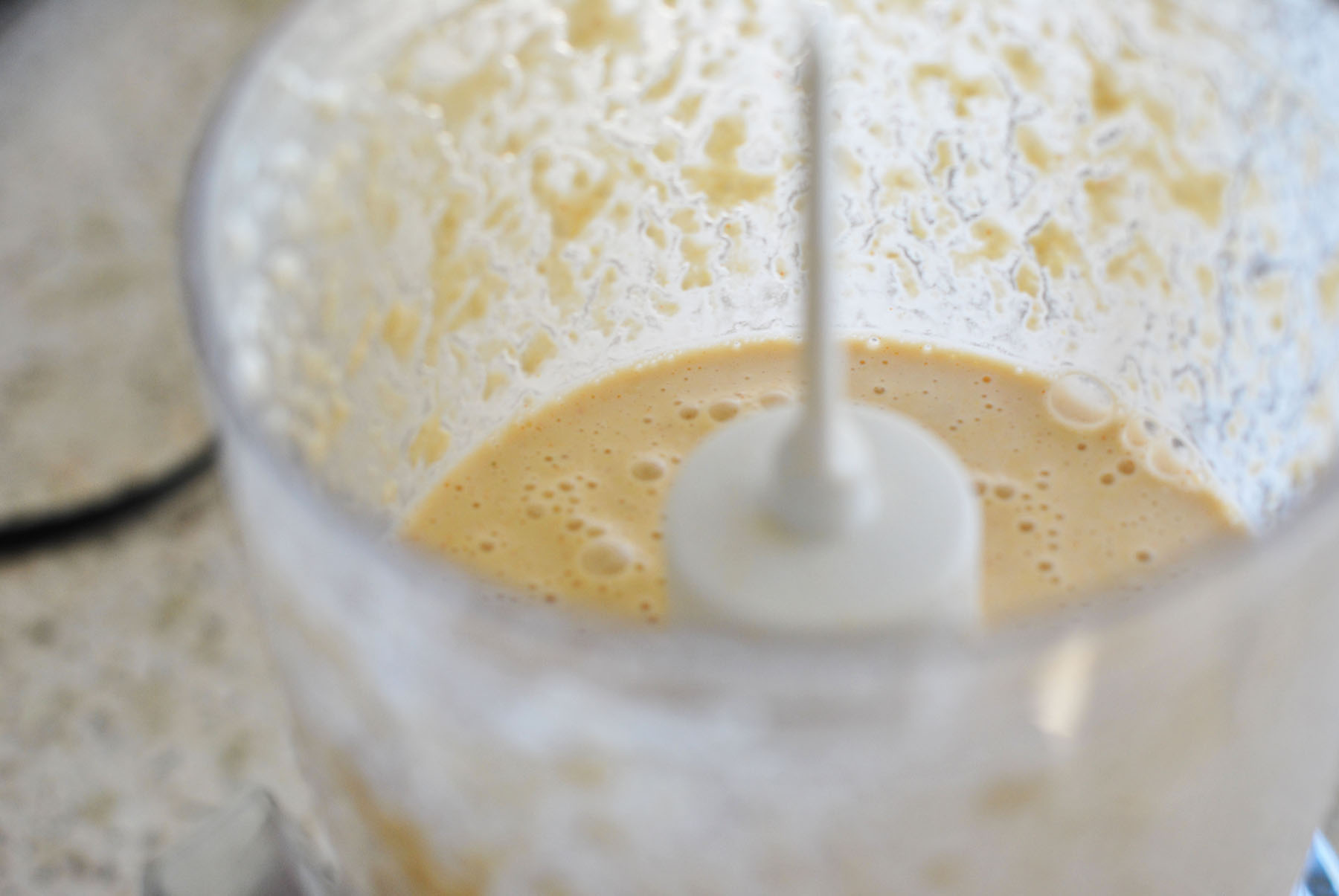 2. Grind the nuts with vegetable broth in a food processor till smooth.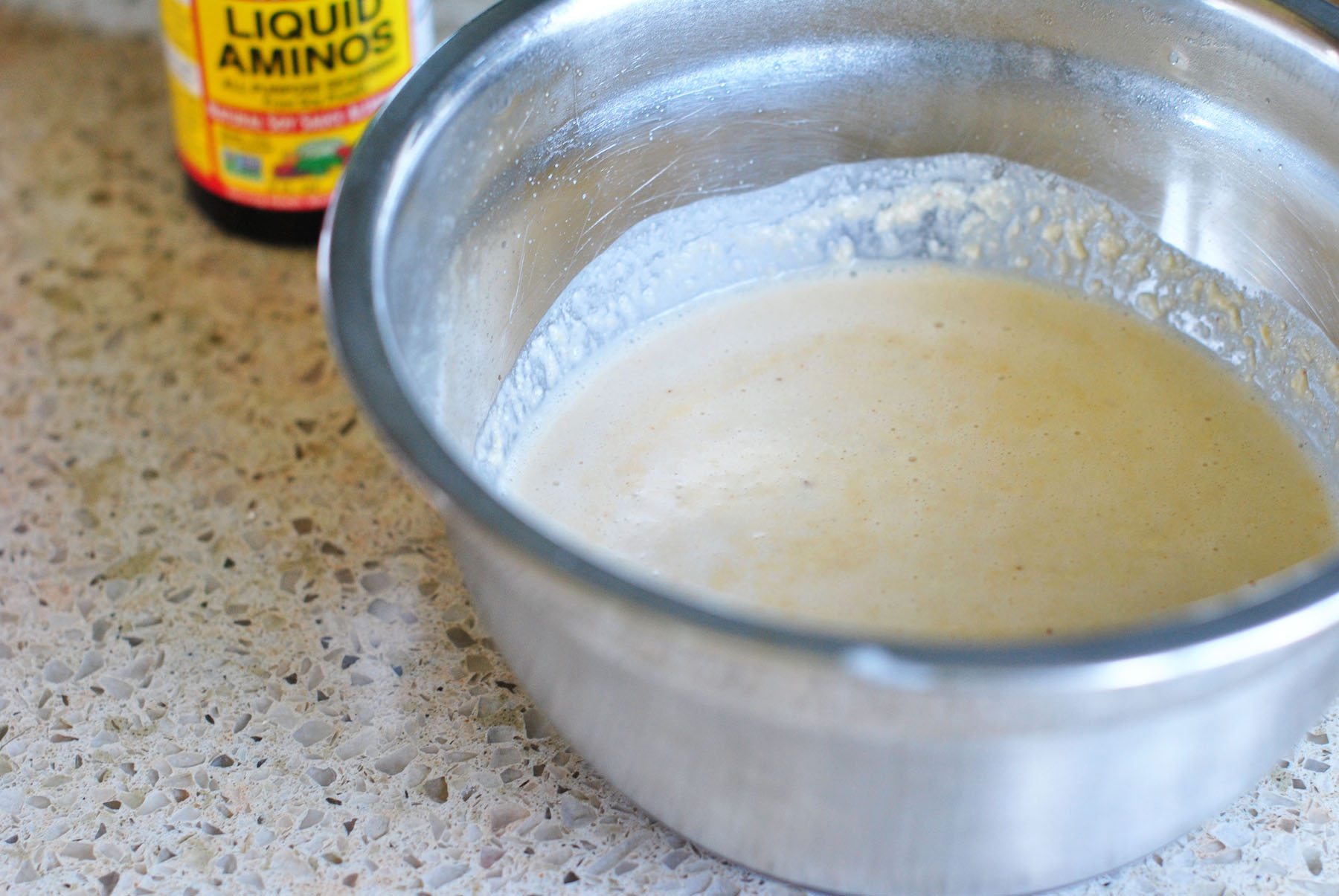 3. Strain the nut mixture. (You don't want your grainy carbonara! )
4. Mix in all the rest of sauce ingredients except for garbanzo flour.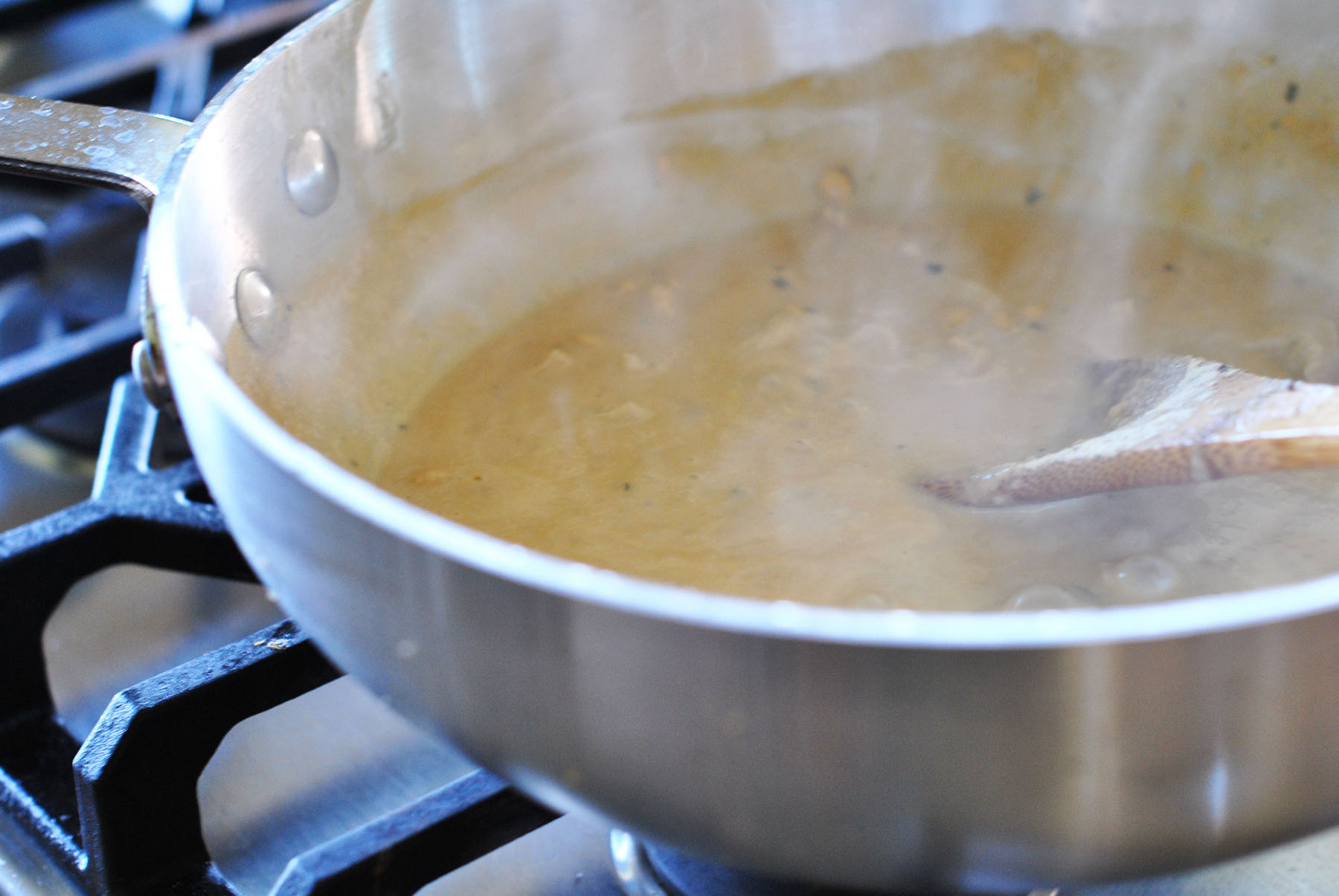 5. Heat the sauce in the pan or pot on low heat and add garbanzo flour. Keep stirring till thicken. Season with salt and pepper.
(If you would like to add chicken or salmon, simply saute sliced chicken breast or chunks of salmon filet in coconut oil with some extra smoked paprika, then add sauce mixture – I have made this with chicken and salmon, they both are delicious! But cashews are solid protein addition so no need to overdo with protein.)
6. Cook pasta in salted boiling water till al dante.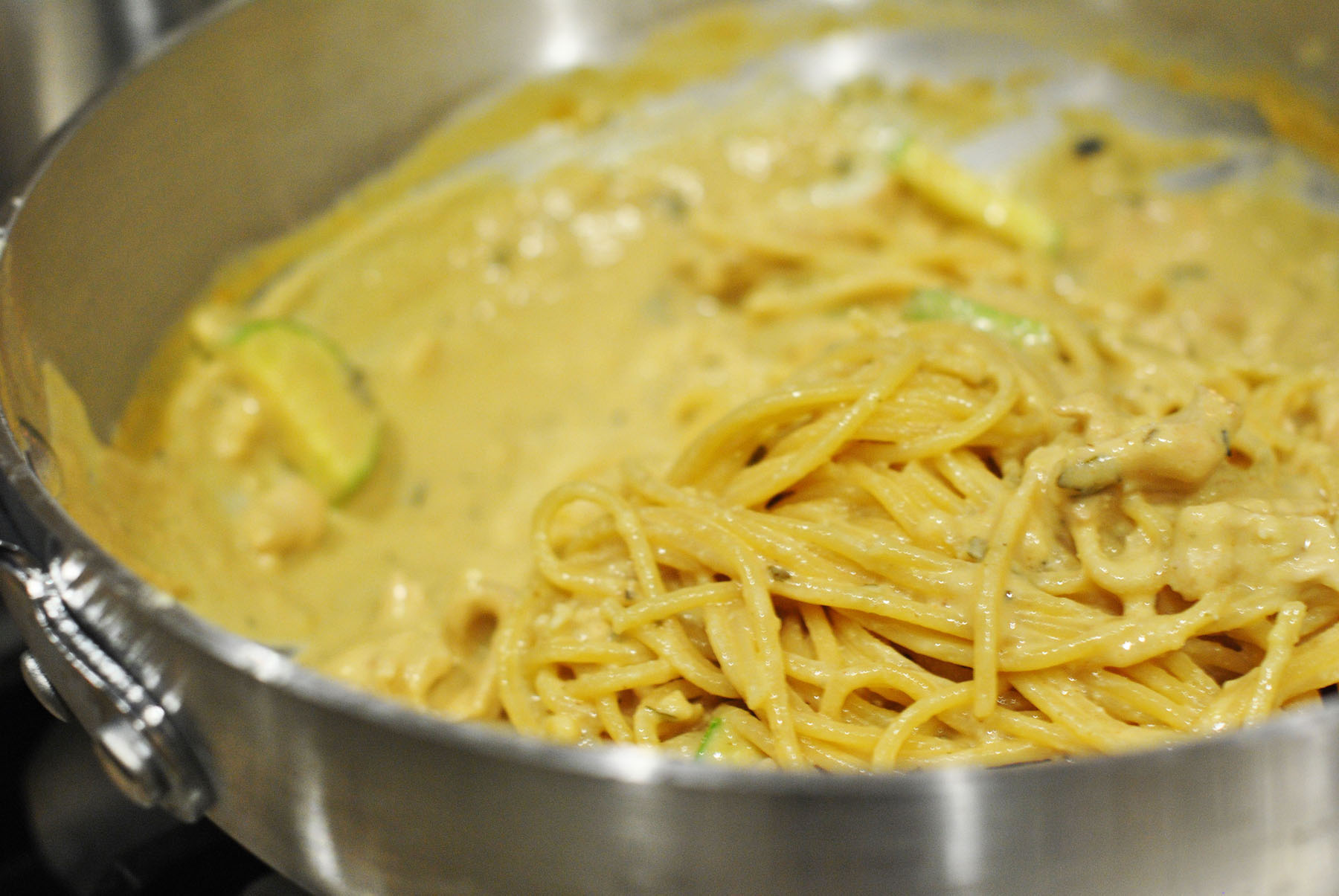 7. Add pasta directly to the sauce mixture. You can add pasta water to thin it out if you think it's too thick. Also feel free to add more of tahini, lemon juice, smoked paprika, miso or mustard and adjust the taste with salt and pepper.
8. Add prepared veggies last. (I added sliced striped zucchini) Cook till slightly soft but still has a bite.
9. Sprinkle with vegan mozzarella cheese.
Santa barbara summer solstice parade
Check out
http://www.facebook.com/lisabeckfanpage
http://www.panzumo.com/
Tags: almond, carbonara, cashew, garbanzo flour, miso, spaghetti, tahini, vegan