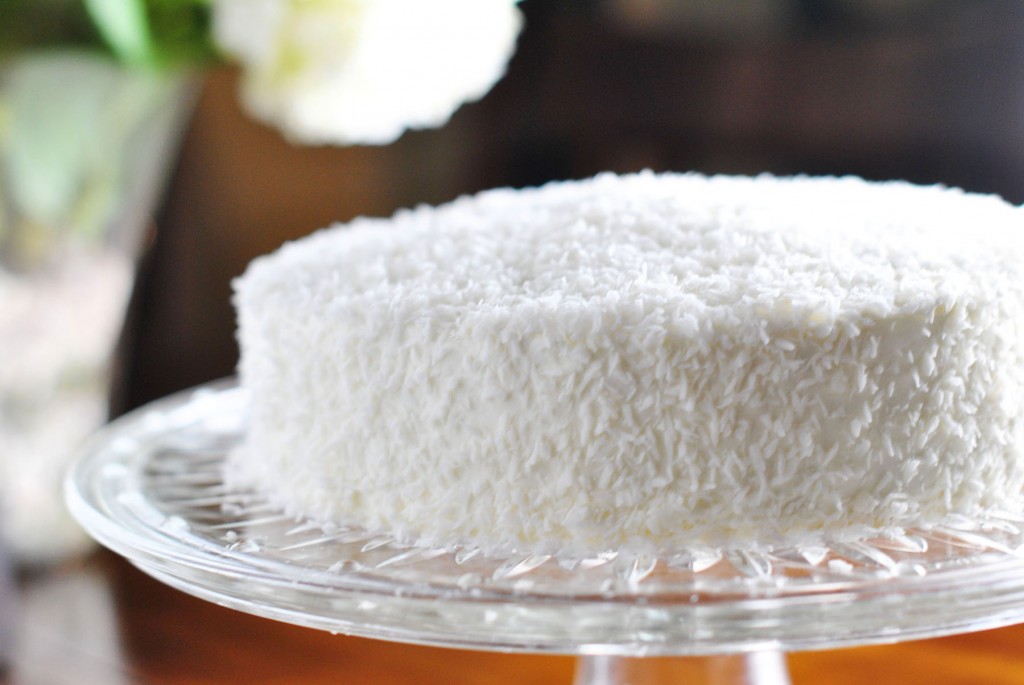 I made this coconut cake for my New Year's Eve party. We had my chef friend, John(the guy in black chef coat in the picture below) cook for us, just 10 people, casual and mellow NYE…  My husband usually makes a face when I make too many baked goods because he will eat the whole thing…not good for his girlish figure…but this cake is so light, moist and 'cloudy',  he said I can make this anytime, he will eat every last piece.
Ingredients
2 cups plus 2 Tablespoon all purpose flour, plus more for pans
2 cups sugar
2 teaspoons baking soda
1 teaspoon baking powder
1 teaspoon salt
1 cup buttermilk, shaken
1/2 cup vegetable oil
2 extra-large eggs, at room temperature
1 teaspoon pure vanilla extract
1 teaspoon pure almond extract
1 cup hot light coconut milk (I just microwave it for 30-40 seconds)
Cream cheese frosting recipe follows
Preparation
1. Preheat the oven to 350 degrees F.
2. Combine all the dry ingredients.
3. In another bowl, combine all ingredients except for coconut milk. Slowly add the wet ingredients to the dry ingredients. Add coconut milk and stir just to combine. Pour the batter into the prepared pans and bake for 30 minutes, until a cake tester comes out clean. (The batter will look too runny…but don't panic. It's supposed to be like this.) Cool in the pans for about 15~20 minutes (this will help the cake come out clean without any middle part of the cake sticking on the pan), then place the pan upside down on a cooling rack till cake comes out. Cool completely. (Sometimes I bake cake days before and freeze it )
5. Once completely cooled, cut off around the side where it got brown and hard. You can leave top and bottom.
6. Place 1 layer, flat side up, on a flat plate or cake pedestal. With a knife or offset spatula, spread the top with frosting. Place the second layer on top, rounded side up, and spread the frosting evenly on the top and sides of the cake.
7. To decorate the cake, sprinkle the top with coconut and lightly press more coconut onto the sides. (I throw a pretty harsh toss of coconut flakes on the side of the cake and gently takes off the excess with hands) This cake tastes the best when you keep it in the refrigerator then take it out 15 mins before serving.(This cake tastes even better next day! )
:: Cream cheese frosting ::
Ingredients
8 oz cream cheese, at room temperature
4 oz (1 stick) unsalted butter, at room temperature
3/4 teaspoon pure vanilla extract
1/4 teaspoon pure almond extract
1  1/2 cup confectioners' sugar, sifted
6 ounces sweetened shredded coconut
Preparation
In the bowl of an electric mixer fitted with a paddle attachment, combine the cream cheese, butter, vanilla and almond extract on low speed. Add the confectioners' sugar and mix until just smooth.
Do you remember my post 'Teach me how to buggie'? That very last photo of puppies…..yes, I did bring one home….>*< I know, I know….but I couldn't NOT bring her home after meeting her at the shelter…. We named her 'Coconut'.
I promise I won't bring any animals from a shelter anymore. I promise!!…(maybe baby orangutan….?…..)