Cardamom-Honey Christmas Cookies
---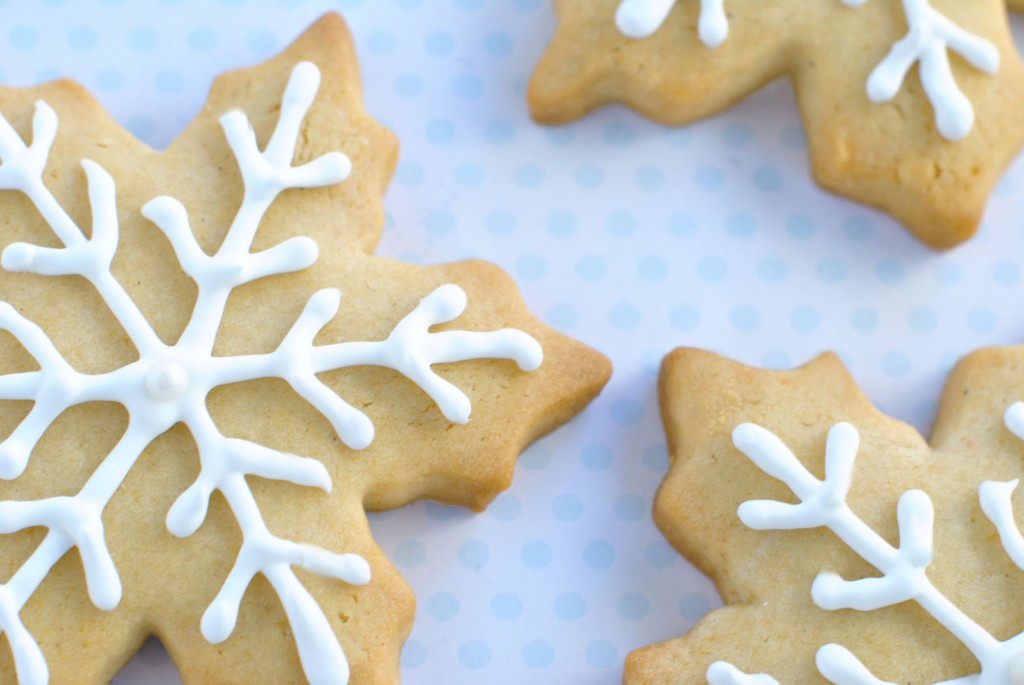 I have been in a cooking slump for last few days. Short rib I made the other night didn't cook in time for dinner, I burned my husband's breakfast (I was making 'Bull's eye'-toast with egg in the middle), mango I bought was all dried out inside when I cut it, apples I bought were all bruised, kiwis were not ripe…….
So I stepped a way from the kitchen….no more cooking for a few days. Christina, put down your spatula and especially that knife…Take a deep breath and step away from the kitchen.
………………………………………….
So my husband hit Mcdoland's for breakfast on his way to work, we ate out every single night and I barely opened the refrigerator.
Today, I caught a glimpse of my unloved kitchen while I hung out at our backyard with the dogs.
I took a deep breath and bravely walk towards it. I stroke my little innocent stand mixer and oven. They didn't do anything wrong….ok, I'm going to bake Christmas cookies. Maybe Baby Jesus will give me extra strength that I needed to get out of this cooking slump. Happy Holidays, everyone!

Ingredients
3 cups flour (and more for rolling)
2 teaspoon ground cardamom
1/2 teaspoon salt
1/4 teaspoon baking soda
1 cup unsalted butter, at room temperature
3/4 cup granulated sugar
1/4 cup honey
1 large egg
1 teaspoon vanilla extract
Preparation
1. Combine the flour, cardamom, salt, and baking soda. Whisk until well blended.
2. In the bowl of a stand mixer fitted with the paddle attachment, beat the butter and sugar on medium speed until well blended and slightly fluffy, about 3 minutes. Add the honey, egg, and vanilla. Continue mixing on medium speed until well blended, about 1 minute. Add the flour mixture and mix on low speed until the dough is well blended and comes together in moist clumps, 30 to 60 seconds.
3. Divide the dough roughly in half. Wrap well in the plastic. Refrigerate until chilled and firm enough to roll out, 1 to 1-1/2 hours.
4. Working with one disk at a time, roll the dough on a floured work surface to about 3/16 inch thick. Dust with additional flour as needed. Choose one or more cookie cutters of any shape that are about 2-1/2 inches wide and cut out shapes. Arrange the cookies about 1 inch apart on the lined cookie sheets. Gather the scraps and gently press together. Re-roll and cut. Repeat with the remaining dough.
5. Bake at 350'F for 11~13 mins. (Rotate the sheet halfway through baking for even browning). Let the cookies cool completely. Decorate with royal icing.
I keep the cookies in the freezer – I like to eat them frozen…just like the way I like my 'Thin Mints' frozen.

Royal Icing
Ingredients
3 tablespoons meringue powder
4 cups sifted confectioners' sugar
6 tablespoons water
Preparation

Beat all ingredients at low speed for 7 to 10 minutes, or until icing forms peaks. (Add water slowly.) Keep icing covered with a wet kitchen towel at all times – Icing can dry out quickly.
Tags: cardamom, christmas cookies, honey, royal icing