Chicken Pozole
---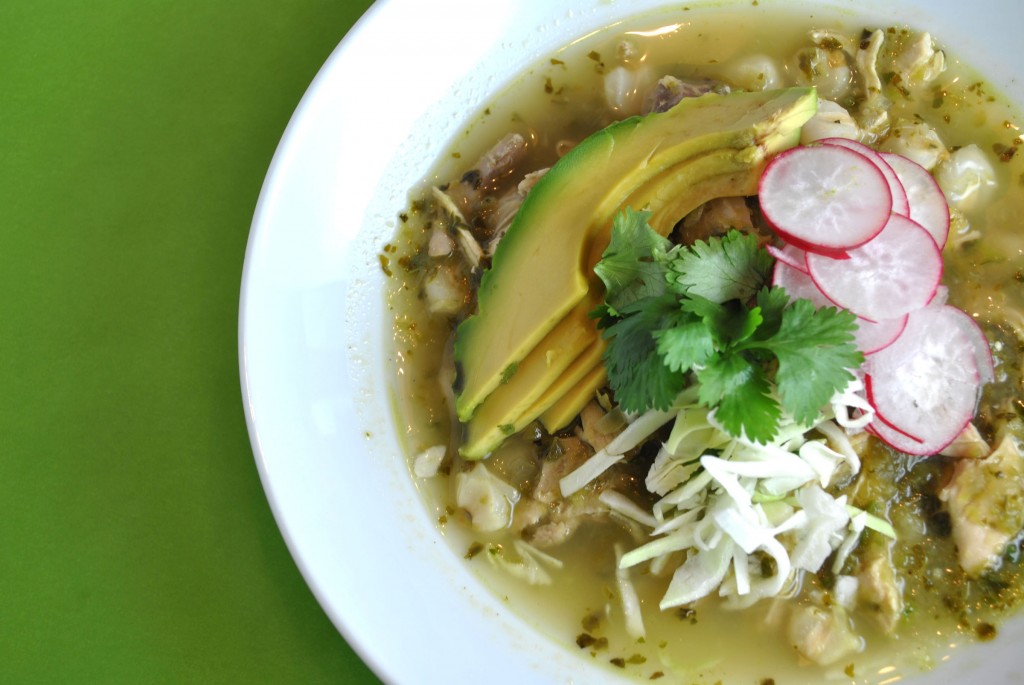 My husband and I went to Puerto Vallarta in beginning of this year. It was a totally random & spontaneous trip and I did not expect a lot. But it turned out to be the best vacation I've ever had. So many good food (I fell in love with mexican food there) and met some great people along the way. It was not the most adventurous trip but it was simply pampering & luxurious…I felt like I was a queen for a few days. We stayed at Villa La Estancia—One word: amazing! Oh did I say we did 'all inclusive' deal? It's embarrassing to admit that we had 7 meals a day, ordered almost everything on the menu…..think I gained 3lb easily. But heck yeah it's worth it!
I miss their food so much so I attempted to make mexican chicken pozole. It was easier than I thought and so delicious! Just need to get a few things at a mexican market and good chicken stock and you are all set to go!
Ingredients
7 cups good chicken stock or low-sodium broth (I will post a separate blog for making chicken stock soon!)
2 cups water
2 chicken breast and some dark meat chicken if you like dark meat which I do!
1 pound tomatillos, husked and halved
1 small onion, quartered
2 poblano chiles—cored, seeded and quartered
2 jalapeños, seeded and quartered
4 large garlic cloves, smashed
1/2 cup chopped cilantro
1 tablespoon oregano leaves
Salt and freshly ground black pepper
1 tablespoon vegetable oil
3 15-ounce cans of hominy, drained
Sliced radishes, chopped onion, sliced avocado, tortilla chips and lime wedges for serving
Preparation
1. Bring the chicken stock and water to a boil. Add the chicken cover and simmer over very low heat until they're tender and cooked through, about 25 minutes. Transfer the chicken to a plate and shred the meat; discard the bones and skin. Skim any fat from the cooking liquid and reserve.
2. Make tomatillo puree:  In a blender, combine the halved tomatillos with the quartered onion, poblanos and jalapeños, smashed garlic, chopped cilantro and oregano. Pulse until coarsely chopped, scraping down the side. With the machine on, add 1 cup of the cooking liquid and puree until smooth. Season the tomatillo puree with salt and pepper.
3. Pour the green sauce into the cooking liquid in the casserole. Add the hominy and bring to a simmer over moderate heat. Add the shredded chicken to the stew, season with salt and pepper and cook just until heated through. Serve the pozole with radishes, onion, avocado,  tortilla chips and lime wedges.
Tags: previous posts