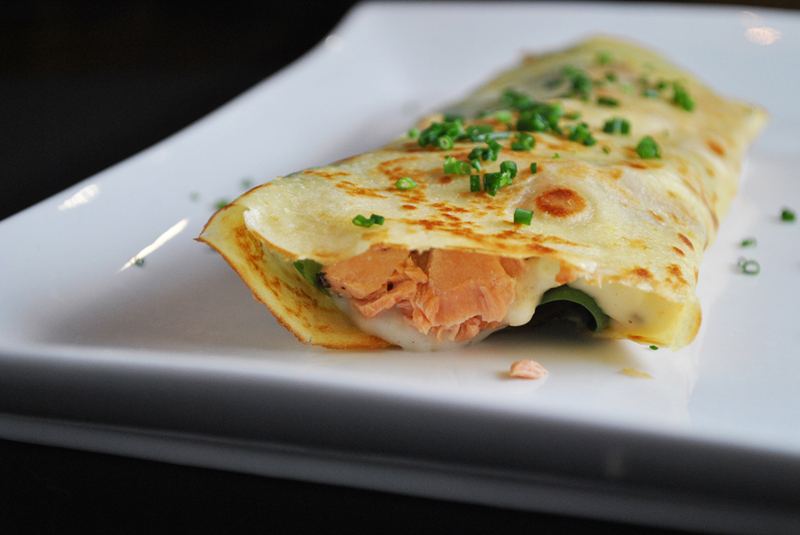 We had some guests over for dinner last night and had a big fillet of salmon leftover. I got it at the fish market(so fresh!) so there is a no way I am having it go waste.  What can I do with it? —I decided to whip up salmon crepe with bechamel sauce. Ool la la And it turned out omg so good.
Ingredients
Crepe batter:
2 large eggs
3/4 cup milk
1/2 cup water
1 teaspoon vanilla extract
1 cup flour
3 tablespoons melted butter
a pinch of salt
Butter, for coating the pan
Salmon filling:
1 pound salmon fillet
Bechamel sauce(white sauce) recipe follows
2  cups Baby spinach
1 Tablespoon chopped capers
1 lemon
Preparation
Crepe

1. In a large mixing bowl, whisk together the flour and the eggs. Gradually add in the milk and water, stirring to combine. Add the salt and butter; beat until smooth.

2. Heat a lightly oiled crepe pan or frying pan over medium high heat. Pour or scoop the batter onto the griddle, using approximately 1/4 cup for each crepe. Tilt the pan with a circular motion so that the batter coats the surface evenly. (Batter gets thick as it sits, so feel free to add more milk or water to thin it out)
3. Cook the crepe for about 2 minutes, until the bottom is light brown. Loosen with a spatula, turn and cook the other side.
4. Pan fry the salmon, flake it to pieces.

5. Put a scoop of salmon directly on the crepe, pour over bechamel sauce, squeeze some lemon juice and top it with baby spinach & chopped capers.
Bechamel sauce
2 tablespoons butter
2 tablespoons all-purpose flour
1 1/4 cups milk
2 teaspoons salt
1/2 teaspoon freshly grated nutmeg
1 Tablespoon chopped Thyme
1 Tablespoon chopped marjoram
Melt the butter in a heavy-bottomed saucepan. Stir in the flour and cook, stirring constantly, until the paste cooks and bubbles a bit, but don't let it brown — about 2 minutes. Add the hot milk, continuing to stir as the sauce thickens. Bring it to a boil. Add salt and pepper to taste, lower the heat, and cook, stirring for 2 to 3 minutes more. Remove from the heat. To cool this sauce for later use, cover it with wax paper or pour a film of milk over it to prevent a skin from forming.
WAIT! THERE'S MORE!
My all time favorite dessert in the whole world. Nutella & banana crepe!
1. Just make a crepe as shown above
2. Scoop out 1 Tablespoon of nutella and spread it out. (or 2 Tablespoon or 3….)
3. Add chopped banana
4. Sprinkle with powered sugar