Oatmeal Good-Morning Shake
---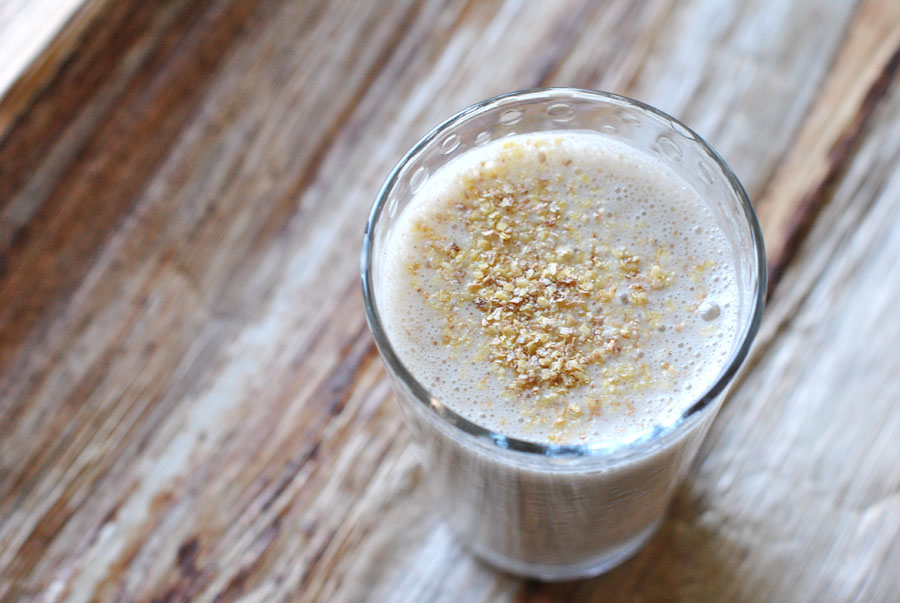 I am definitely a morning person. I get my workout and all my errands done before 1pm. At least I try. Around 3pm, after grumbling to myself why I am always so busy , I take my 2nd shower, get my energy back, get hubby's and puppy's dinner ready and head to my dance practice. Whewwww……definitely no room for a kid for now.

I have been doing lots of swimming and The Dailey Method. Especially, swimming keeps me in shape for my hula dancing. And I always need my oatmeal shake before I head out to the pool because after 45 mins of lap, I'm pooped and I need my energy!
There is a couple at my gym pool, who are ridiculously good swimmers.They even have an American Flag on their swim caps…..i know i know. Talking about a total intimidation. I basically try to avoid them. Today, the couple joins me in the pool. Dammit! The woman looking oh so good in her 'special' goggle and 'national swim team' cap, (and me looking like an alien in my $10 goggle, doing my not-so-perfect butterfly), she dives into the pool like 'Missy Franklin', does her perfect butterfly and turns. Thank god I had my oatmeal shake to (barely) keep up my speed with them…I did alright today but I do want to avoid them next time…..:)  On a morning like this, I definitely need my oatmeal shake to get me going.
Try using quinoa instead of oats and sprinkle some wheatgerms and chia seeds. Breakfast can't get any better than this. Now drink up, conquer your day.
Ingredients
1/4 cup old fashion oats
1/2 cup almond milk
1 or half banana
1 teaspoon peanut butter
1 teaspoon cinnamon
Tiny sprinkle of sea salt (optional)
Wheat germs or chia seeds
Add some honey if you need more sweetness and Coconut water if you need to thin it out.
Sprinkle some wheatgerm and chia seeds if you have them.
Blend it all up!
As Ryan Lochte says, 'Cheeeaaarhs'! (I swear i don't really watch that show…..i swear)