Roasted chicken with Farro and herb sauce
---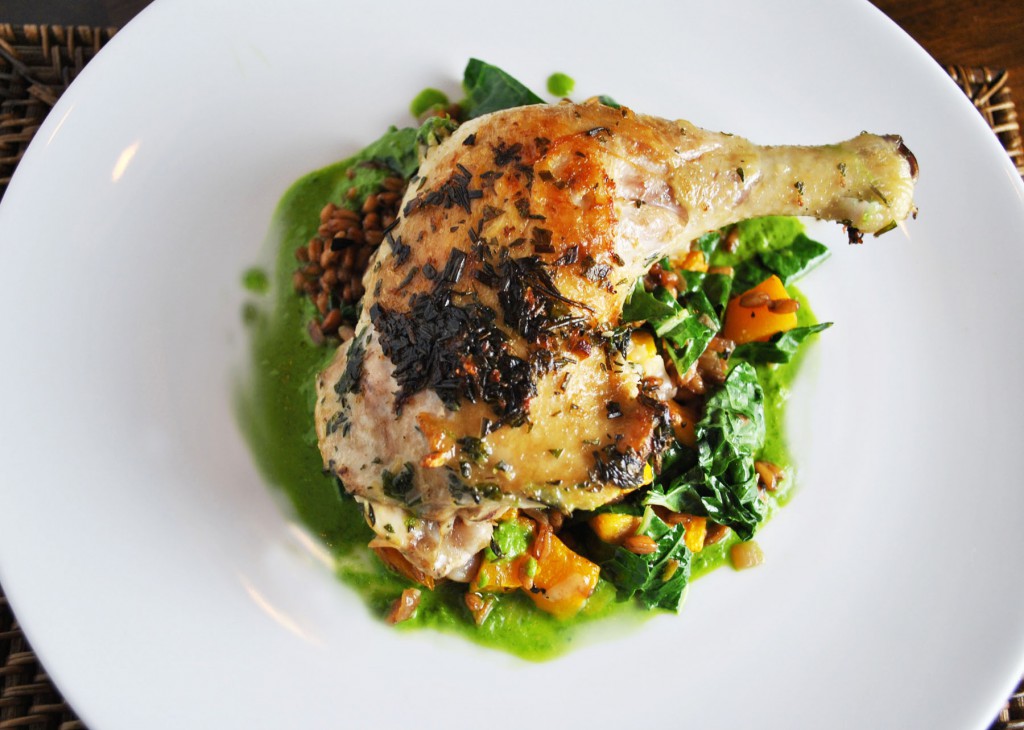 I am not a huge  fan of chicken (except for fried chicken) but my husband loves chicken. He thinks chicken meat goes straight to his muscle-best muscle gain protein….
So I've got a few good chicken recipes up my sleeve. And this is by far my favorite chicken dish. Toasted farro give the whole dish nutty and robust flavor. I did spin and went to  'fit buddha' (my new favorite fitness class-spx fitness)  today so I guess I will eat some chicken tonight. Please, chicken, go to my muscle.
Ingredients
Chicken (halves)-please buy a happy chicken.
For marinade: 1 Tablespoon chives, 2 Tablespoon parsley, 2  Tablespoon tarragon, 1 Tablespoon thyme, 1 teaspoon lemon zest, 1 garlic clove, 1/3 cup olive oil, salt & pepper
For farro: 1 small acorn squash, 1/2 bunch kale, 3/4 cup farro, 1 small garlic, 1/4 cup diced onion, 2 cup vegetable stock,  1/4 cup freshly grated parmesan cheese,  1 Tablespoon olive oil, 1/4 cup dry white wine, 1 Tablespoon butter
For herb sauce: 1 1/4 cup flat-leaf parsley, 1/2 cup chives, 1/2 garlic clove, 2 Tablespoon olive oil, 3/4 cup tarragon, salt
Preparation
1. I usually buy a whole chicken, cut it myself. That way, it's less expensive, and I can get chicken stock out of it. But you can get chicken breasts, thighs, legs….whichever you like. Make sure you leave the skin on.
2. Make the marinade and put it in the big ziplock bag with chicken and chill overnight.

3. Put the chicken in a 'big' ziplock bag and place it in a pot. Add cold water to cover by 2 inches. Heat water till boiling. Then turn off the heat, cover and leave the chicken for 30 mins.(It will gently poach the chicken) Transfer chicken to paper towel and pat dry. (make sure you don't remove the herb marinade. Just light pat to dry off excess moisture). Heat oil in a pan, sear chicken skin side down till golden brown, flip the chicken and transfer to oven, bake .350'c for 15~20 mins. Let rest for 10 mins
4. Make herb sauce: Blanch all the herb for 10 seconds, transfer it in ice water, squeeze dry. Mix all the herb and oil together and blend it till smooth. That's it! Easy, huh? (If the color is not as green as you want it to be, try adding some spinach. It will become reaaaaallllly bright green.)
5. For Farro mix:


Squash: Cut into 1 inch squares, drizzle with oil, salt & pepper, roast about 30 mins till soft
Kale: Wash, rinse, center stem removed and roughly cut.


Farro: Toast in a pan with olive oil till golden brown, transfer in a bowl. In the same pan, sweat onions and garlic till brown. Add wine and reduce it till almost evaporated. Add back toasted farro. Add warm vegetable stock and cook till farro is tender. Toss in butter and stir. Add squash and kale and season with salt and pepper. Lastly add parmesan cheese.
To serve, place a spoonful of herb sauce on the plate, scoop out farro and place the chicken on top of it. Tadaan!